I am excited to have been included in an amazing giveaway!
Do you love to travel?
Would you love to give your family an adventure they will not soon forget?
To enter this amazing giveaway, simply click on the photo below (clicking directly on the "P" will take you to Pinterest), and you will be taken to the entry form.
Each day during the month of May a travel blog post is being featured in this promotion. Today my post
"Disney on a Dime"
is the feature. I am so honored!
To find out exactly what is included in the giveaway, scroll down for the list of the breakdown of all of the prizes that a lucky winner will be blessed to receive!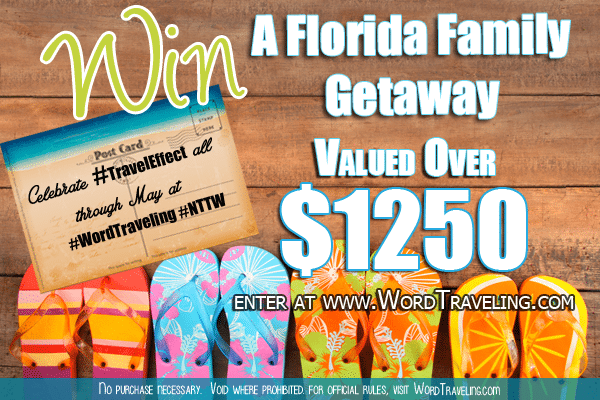 Ready to hear about the big Travel Effect Giveaway????
One winner will be blessed to receive:
3 nights stay at
Casa del Rey
in Hobe Sound Beach, and a chance to meet
Jen
-value -$450
2 nights stay for a family of 4 plus Breakfast at
Sun Tower Hotel Suites
in Fort Lauterdale - value $500.
Geo Matters
Maps & Geography Bundle TBA ~$150.
Wonder Maps from
Bright Ideas Press
- value $49.95.
Apple Core
one year subscription- value $55.
Words With Wings One Year Subscription
from Word Traveling - value $59.
Car Cache
-value $20.
Find out what our blogging friends have to say about the Travel Effect!
5-1 Jen at Word Traveling shares
Come Celebrate the Travel Effect with Us
.
5-1 Amy at Homeschool Blogging shares about
Traveling to Conventions
.
5-2 Stacey at I'm A Lazy Mom shares
My Newest Lazy Mom Travel Essentials.
5-3 Jen at Word Traveling (that's me!) shares
NTTW Kickoff! Infographic & Video Contest Announcement
5-4 Amy at Homeschool Encouragement shares
Free Travel Printables for Kids!
5-5 Katie at Paradise Praises shares
Large Family Travel Tips
5-6 Jen at Word Traveling shares
Travel Effect- The Effects Travel Has on Family
.
5-6 Jen at Conservamom shares the
Dave Ramsey School of Traveling with Your Family
.
5-7 Jenilee at Our Goodwin Journey shares
Tips for Surviving Well in Small Spaces
5-8 Jen shares on the
Ultimate Homeschool Radio Network
.
5-9 Suzette from The Joy of Homemaking shares
Disney on a Dime
.
5-10 Marcy from Ben and Me shares
10 Tips for Saving Money on Vacation
.
5-12 Kendra from Homeschooling IRL shares
Traveling With Kids Is Worth All the Effort
!
5-15 Trisha at Intoxicated on Life shares
4 Passes to Access Over 3,300 Educational Family Adventures
5-15 Jen at Florida Parent Education Association shares
Making Memories at Your Homeschool Convention
.
5-17 Tonya shares
Practical Ways to Save Money on Your Next Road Trip
5-20 Susie (age 6) shares
Flying as an Unaccompanied Minor
.
5-21 Leslie shares
Getting Outdoors While Traveling with Kids
.
5-23 Phyllis shares
Do You Travel With Children?
5-28 Kathy shares
Boredom Busters For Road Trips